Introduction
The digital skills revolution
In the future, technology will usurp us from our jobs. Legions of robots will take our places, doing our work more accurately and more efficiently than we ever could. The clattering of keyboards will be replaced with smooth mechanical whirring echoing in warehouses.
Half of Americans will be out of work as their jobs are computerised. And that's only in the US - across the world, people will be replaced by machines as companies try to cut costs.
It seems like a bleak future, doesn't it? But if you look at the whole picture, it is estimated that 2.6 jobs will be created for every one lost to computerisation. Forget the rise of the machines, this is the rise of the people. Not just any people though, people with digital skills and the knowledge to manipulate technology.
Maggie Philbin, a TV presenter known for heading up Tomorrow's World and more recently Bang Goes the Theory, is chair of the UK Digital Skills Taskforce. She recently contributed to a report investigating what needs to be done to help people in the UK develop their digital skills.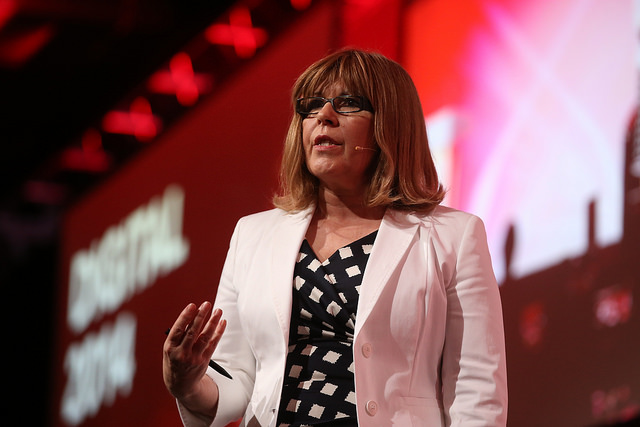 Maggie Philbin is working to improve the way digital skills are taught in the UK.
Photograph: Digital Wales (CC BY)
"Technology is changing every aspect of our lives. From health to transport, cyber security to food security, from the world of arts to the world of science.
"It transforms how we keep in touch with friends and families, how we work, how we we enjoy ourselves, how we engage politically and how we make sense of the world. Digital skills are not only needed by companies operating in the digital space but by all companies."
"The provision for training teachers is completely inadequate."
In September, the dated ICT syllabus will be replaced by a new Computing curriculum in schools. Children as young as five will be taught computer science. Philbin says: "It is an important step in the right direction but needs to be given much more financial support to help train teachers with little or no experience. Not only for the launch but over the next 10 years. The provision for training teachers who are embarking on what is for many a completely new subject is completely inadequate."
Even teachers have a lack of knowledge about computer science. So what is it? Nigel Smart, Professor at the Department of Computer Science, University of Bristol, explains what computing is all about:
How parents can help
It's not only schools that can help children get to grips with technology. Philbin says: "Parents are hugely influential when it comes to offering advice on subject choices and possible career choices - so making sure they are as well informed as possible is really important.
"It's great to encourage children to move on from enjoying playing games to building them. Encouraging them to join tech clubs or taking them to CoderDojo sessions is one way of providing external support for activity which might be patchy in schools."
"Making sure parents are as well informed as possible is really important."
However, Philbin notes that many parents don't know about the opportunities available for young people, as they think digital skills are unimportant. She says: "Sometimes I think it's best for all parents to recognise we only understand a fraction of the opportunities and be mindful we often have outdated understanding of work opportunities. Some parents have an understanding of the emerging industries but many do not."
Although she is frustrated by a lack of action, with many reports being written in the past to no effect, Philbin hopes to make a difference as part of the Digital Skills Taskforce. She was struck by the lack of funding for teachers to improve their skills, saying: "I very much hope that we see teachers being given more support to develop their knowledge of computing and for the status of teaching to be appreciated."